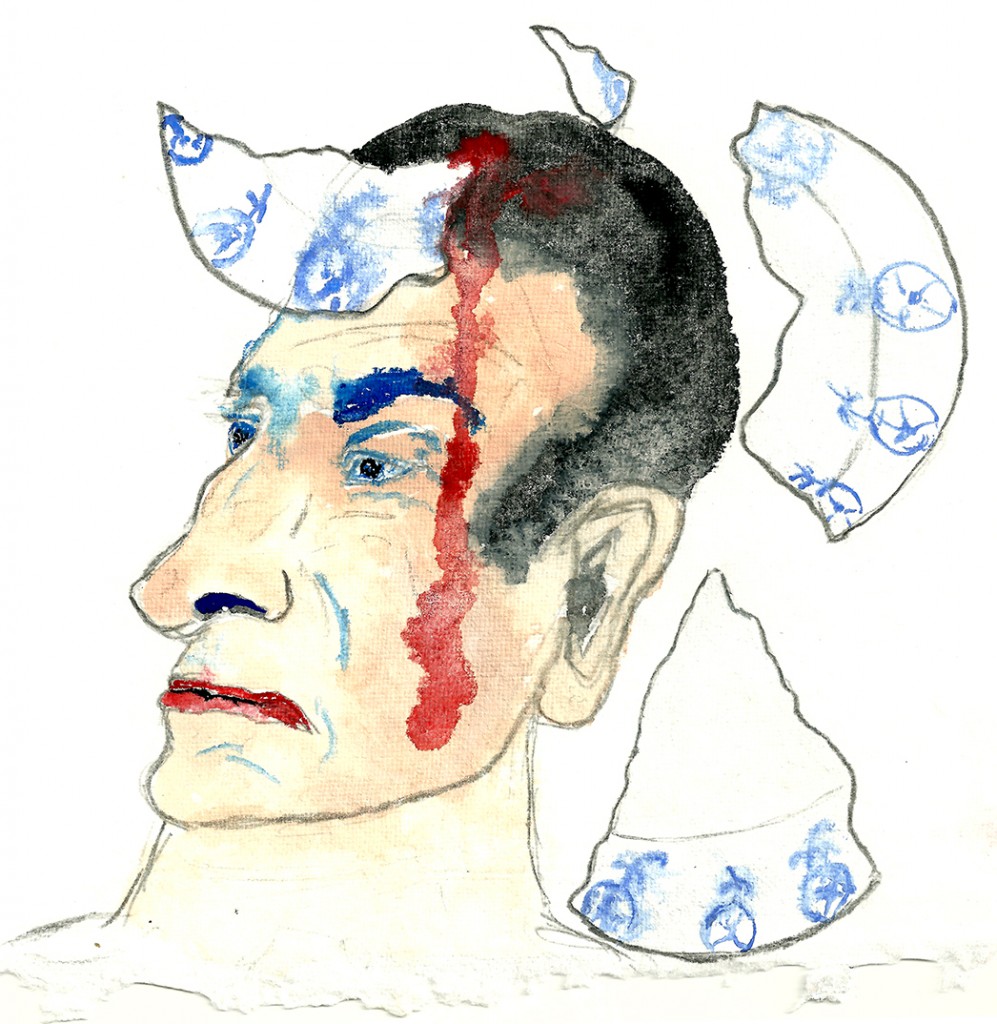 The Artists' Prison is an artist book created by Alexandra Grant and Eve Wood, both artists based in Los Angeles. Known for her collaborations with writers, Grant is a painter who transforms language into large-scale textual landscapes in painting and drawing. Wood is a visual artist, poet and art critic who equally works between visual and textual formats. The Artists' Prison is Grant's first collaborative exchange as a writer, where she invited Wood to illustrate her words.
The Artists' Prison is a brutal Kafka-esque landscape where prisoners are both condemned for their creativity as much as punished with inventive penalties. These penalties are not always in keeping with the crimes committed and it is this ambiguity that drives the narrative forward. In The Artists' Prison, the act of creating becomes a strangely erotic condemnation and a means to punish and transform those sentenced there. It is this very transformation — sometimes dubious, sometimes oddly sentimental — that becomes suspect.
The Artists' Prison represents a unique visual and literary intersection wherein Wood's 44 images do not so much as illustrate Grant's text, but serve as visual "flourishes" that allow the text to expand out from its original meaning. Similarly, the text does not ground the imagery, but is a point of departure where the visuals continue to spin out and intensify its significance.
The Artists' Prison was published by X Artists' Books in 2017.
An exhibition of The Artists' Prison drawings by Wood opens at Ochi Projects on June 3rd, from 6-9pm. A book signing by Grant and Wood will take place at the gallery, June 10th, from 4-6pm.
Press:
Agatha French, "Books as an Artistic Proposition," LA Times, www.latimes.com/books/la-ca-jc-keanu-reeves-artists-books-20170719-story.html
Jody Zellen, "Eve Wood and Alexandra Grant, "The Artists' Prison" at Ochi Projects," Art and Cake, www.artandcakela.com/2017/06/17/eve-wood-and-alexandra-grant-the-artists-prison-at-ochi-projects/
Image: Eve Wood, "Prisoner #42: The Broken Plate Artist," 2015. Mixed media on paper, 7 1/8 x 7″.