ghost town was a participatory drawing project organized by Alexandra Grant that took place during the 20 Bienal de Arte Paiz in Guatemala City, Guatemala, and curated by Alma Ruiz. For ghost town Grant invited the public to join her in illustrating a series of poems by the Guatemalan writer Vania Vargas, as an extension of her own studio practice. For the purposes of this collaboration, Vargas created an anthology titled  "Cartografía de un pueblo fantasma" ("Cartography of a Ghost Town"), that mapped out dreams, real and fictive, across the urban landscape of Guatemala City. Grant used Vargas's "Cartografía" as a linguistic plan or guide for the collaborative drawing that measured over 90 feet in length, from May 25th to June 9th, 2016. At it's essence ghost town was a collective memory mapping project with over 600 participants, including artists and non-artists of great diversity.
The hospitality and collective vision of ghost town were informed by Grant's work with the French philosopher and writer Hélène Cixous. In 2013, Grant collaborated with Cixous to complete a twinned-city drawing project in Los Angeles and Paris called "Forêt Intérieure/Interior Forest" based on Cixous's book "Philippines."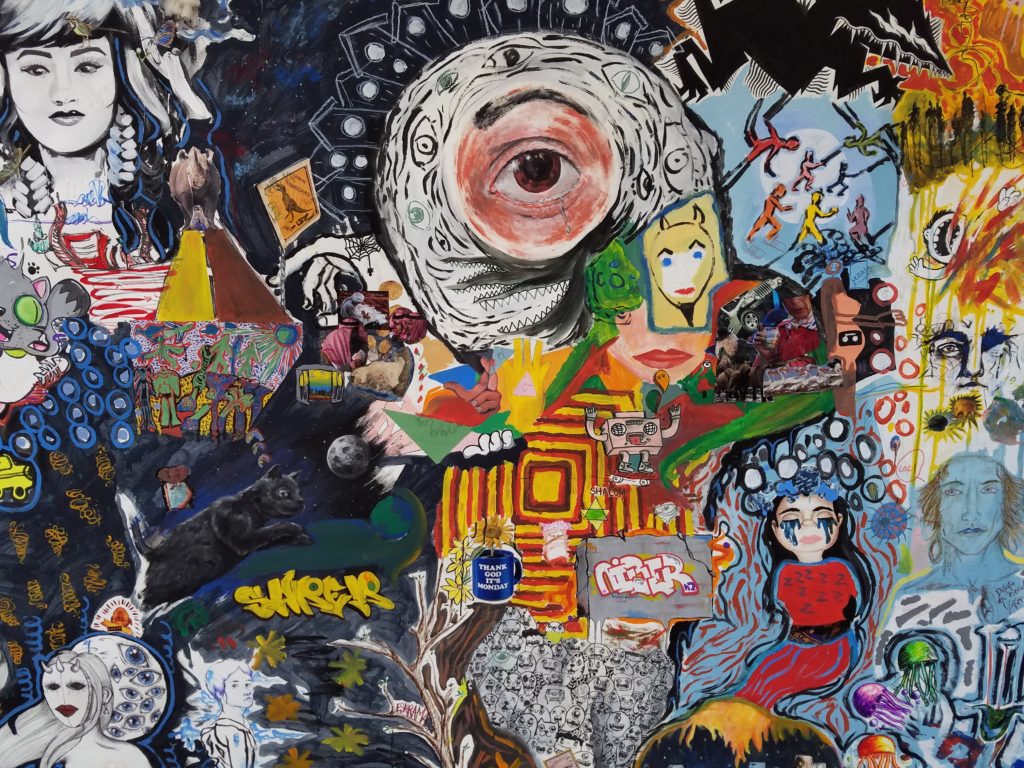 For a record of the project, please visit the community page on Facebook: www.facebook.com/ghosttownpueblofantasma/
About Vania Vargas
Vania Vargas is a Guatemalan writer and poet, born in Quetzaltenango in 1978. After receiving her university degree in literature at the Universidad de San Carlos de Guatemala, she worked as a journalist in both Quetzaltenango and Guatemala City. Her published works of poetry include "Cuentos infantiles" ("Children Stories") y "Quizás ese día tampoco sea hoy"  ("Perhaps today isn't that day either") published in 2010 by Catafixia editorial and Editorial Cultura respectively. She also wrote "El futuro empezó ayer: apuesta por las nuevas escrituras de Guatemala" ("The Future Started Yesterday: Betting on New Writings from Guatemala") with Catafixia editorial and UNESCO in 2012. Her most recent work in poetry "Señas particulares y cicatrices" (Particular signs and scars") was released by Catafixia editorial in 2015. Her collection "Cartografía de un pueblo fantasma" ("Cartography of a Ghost Town") is a collection from three of her books of poetry and put together in 2015 for her collaboration with Alexandra Grant in the project ghost town. Vargas published a book of short stories in 2016 called "Después del fin" (After the end) published by Ediciones del Pensativo.
About Alma Ruiz
Alma Ruiz is Senior Fellow in the Center for Management in the Creative Industries, Latin
American Specialist, Sotheby's Institute of Art and Claremont Graduate University. She holds a
B.A. degree in Art History from the University of Southern California and a M.A. in Italian
Literature and Language at Middlebury College in Vermont and the University of Florence in
Italy. A former Senior Curator at The Museum of Contemporary Art (MOCA), Los Angeles, Ruiz
has curated numerous exhibitions focusing on the postwar period in the United States, Italy, and
Latin America with artists such as Alighiero Boetti, Mauricio Cattelan, Lygia Clark, Magdalena
Fernández, Carlos Garaicoa, Gego, Kcho, Ernesto Neto, Marco Maggi, Ana Mendieta, Piero
Manzoni, Hélio Oiticica, Gabriel Orozco, Damián Ortega, Rosângela Renno, Mira Schendel, and
Francesco Vezzoli. In addition to having served as a guest curator at La Fundación/Colección
Jumex, Mexico City; the Center for Contemporary Art, Tel Aviv; the Art Museum of the Americas,
Washington, D.C., the Fowler Museum at UCLA, Los Angeles, and Fundación Telefónica,
Buenos Aires, she has acted as a juror for numerous biennials in Latin America, including the V
Panama Biennial, the Tamayo Biennial in Mexico City, and the Second Exhibition of Central
American Emerging Artists in San Jose, Costa Rica. Ruiz has also been a panelist for The Paul
& Daisy Soros Fellowship for New Americans, Creative Capital Foundation in New York, and the
U.S. Fund for Culture in Mexico City, and is a member of the Advisory Committee for the
Cisneros Fontanals Art Foundation in Miami.
About the 20th Paiz Bienal — The Ordinary/Extraordinary: The Democratization of Art or the Will to Change Things
The 20 Bienal de Arte Paiz celebrated 40 years of support of the Guatemalan visual arts by the Fundación Paiz for Art and Culture. The twentieth edition aspires to greater inclusiveness by bringing the public closer to contemporary art, through the promotion of a simple and direct dialogue as a first step for a better understanding of the art of our time. In the historic center of Guatemala City, the Bienal de Arte Paiz will endeavor to close the gap that exists between the public and the work of art through participatory works and other works inspired by the idea of art and life. Created by national and international artists, the works of art included span from the sixties to the present and explore the notion of the everyday through various themes: Object: Deconstructions, Obsessions, and the Exercise of Collecting; Observation of Space and Place; Individual and Social Identity; Politics and Activism; and the Everyday Unconscious.