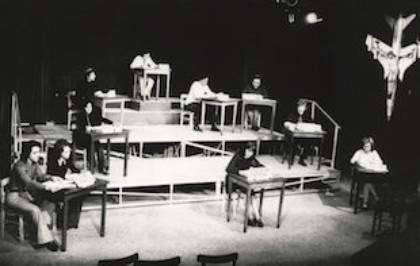 Performance: The Words of Others
Saturday, September 16, 2017
1:00pm to  8:00pm
REDCAT Theater (map)
This durational performance of The Words of Others (Palabras Ajenas), set in the REDCAT Theater, will be the first staging of the full work by Léon Ferrari.
The Words of Others (Palabras Ajenas) is a Vietnam-era antiwar piece written in the form of a dramatic script. The Argentine artist Léon Ferrari created this "literary collage," one of his essential political statements, by cutting and assembling text from various sources, including news agencies, history books, the Bible, and speeches by such political and religious figures as Lyndon Johnson, Robert McNamara, Pope Paul VI and Adolph Hitler.
The September 16th durational performance in the theater at REDCAT will be the first full staging of the work. Partial readings took place at the Arts Lab in London (1968) and in Buenos Aires at the Larrañaga Theater (1972). A cast of thirty readers will give a contemporary voice to the text and constitute a tribute to him as an artist and defender of culture, democracy, and civil rights. Ferrari's literary collages share the experimental impulse of figures such as Julio Cortázar and Bertolt Brecht in literature and theater, as well as the political unrest of the counterculture movement of the 1960s.
This durational performance is free and open to the public (people can come and go as they please).
Readers: Edgar Arceneaux, Camila Ascencio, Rafael López Barrantes, Samantha Bartow, Nao Bustamante, José Luis Blondet, Ashlyn Delaire, Carlo Figlio, Jessica Fleischmann, Andrea Fraser, Charles Gaines, Alexandra Grant, Jen Hofer, Ashley Hunt, Rett Keeter, Daniel Lavery, Mireya Lucio, Michael Ned Holte, Roberto Martin, Fernando Mitre, Paige McGhee, Alyxaundrea Munson, Silke Otto-Knapp, Mac Rasmus, Christopher Rivas, Juan Rivera, Connie Samaras, Hannah Trujillo and Kristin Wetenkamp.
More about the exhibition and performance at REDCAT here.
To order a copy of X Artists' Books' The Words of Others (Palabras Ajenas), please visit their website.